Air Tractor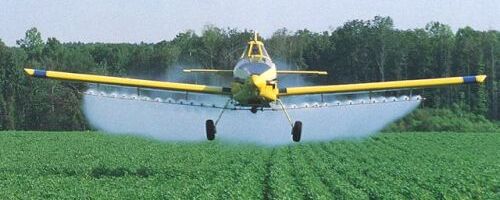 For allmost 50 years, Leland Snow has been manufacturing agricultural aircraft: first the Snow, then the Thrush, and since 1972, the Air Tractor. These planes have played a major role in the history of agricultural aviation.
In 1965, Lelend Snow sold his company, Snow Aeronautical, to North American Rockwell.
They continued to build the planes as Thrush Commander, which later, after Ayres took over Rockwell in 1977, became the Ayres Turbo Thrush.
| | | |
| --- | --- | --- |
| | | |
| Snow S-2A. 1956 | Snow S-2C. 1964 | Thrush Commander. 1965. |
When Leland Snow sold his company to Rockwell, he was appointed a Vice-President of the Aero Commander division. During this time, the S-2R was developed and named the Thrush. The first 100 Thrushes were built at the Olney Division before the plant was closed and the Thrush production moved to Georgia in 1970.
Leland Snow resigned from Rockwell and spent the next two years designing the Air Tractor. Construction began in 1972 on the AT-300, which later became the AT-301. Air Tractor's first turbine model, the AT-302, was introduced in 1977.
Today, Air Tractor produces about 100 planes a year, with an extensive product line that includes 400, 500, 630, and 800 gallon capacity planes powered by Pratt & Whitney piston or turbine engines. Whether utilized for spraying, seeding, fertilization, or firefighting work, operators choose Air Tractor because it is regarded as one of the most productive, highest quality, and cost effective ag planes on the market.
| | | |
| --- | --- | --- |
| | | |
| Air Tractor AT-402b. | Air Tractor AT-502b. | Air Tractor AT-802. |
Duane Habets, Conrad, Montana.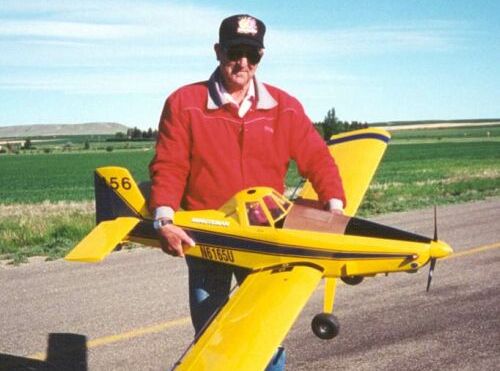 Duane Habets, builder of the R/C Air Tractor 502b.
92" scale Air Tractor AT-502b
Now, here is a dream come true.
Duane Habets from Conrad, Montana has designed and build a beautiful R/C scale model of an Air Tractor 502b. This 92"(2340mm) model is a true scale model. Duane is also working on plans for a 72" (1820mm) and 104" (2640mm), but this might be a few years.
| | |
| --- | --- |
| | |
| Duane's Air Tractor 502b. | Very nice scale. |
Duane build this model in 1998 from scratch. With help of his son, drawings have been created. The plan for this 92" model was origionally to end up with a little bit bigger model. But since the fusalage is relatively small to the wingspan, it turned out to become a nice handy sized model.
In December 2002 I had the pleasure to meet Duane and his Air Tractor. I was for training in Boise, ID, and Duane offered to drive down from Montana to Idaho, in order to show the Air Tractor.
We had a very nice flying afternoon at the Nampa Model Aviators together with Rod Springer, member of this club. It was not really warm, but beautiful weather to fly. Duane made 3 flights with the Air Tractor, and I must say, it is a beauty. The large wing makes it fly gently at low speeds. Very realistic spray runs are possible. This is also made possible by the scale flaps.
| | | |
| --- | --- | --- |
| | | |
| Flaps up. | Flaps half. | Flaps full. |
Do you want this scale Air Tractor?
It is possible for you to fly this model. Please, do not count on having one by next week, all happens on voluntary basis!
At this moment, there is Duane's model that flies, and some "kit's" and some drawings that found there way to some customers in the US and Australia. We have at this moment (Jan 2003) no update on what happened to these.
In 2003 a plug got finished, so a epoxy fusalage will be available. Early 2004, Duane is finishing one model from this plug. Later in the season, this might become available as a kit, but please be patience.
For people that want to build in wood, drawings can be made available for fair price, and also some parts can be fabricated. For details, send an email.

The real Air Tractor 502B from Minuteman, and Duane's 92"model
Some numbers:


| | | |
| --- | --- | --- |
| | Air Tractor 502b | R/C Air Tractor 502b |
| Engine: | Pratt & Whitney PT6A-15AG | OS 1.08 2-stroke |
| Engine H.P and R.P.M.: | 680 @ 2,200 | 3 @ 16,000 |
| Take-off weight | 9700 lbs (4400 Kg) | 15 lbs (6.75 Kg) |
| Usefull load | 5403 lbs (2451 Kg) | Not yet tested |
| Hopper capacity | 500 US Gallon (1.892 L) | Not build yet |
| Wing span | 52' (15.84m) | 92" (2.34m) |
| Fuel capacity | 170 US Gallon (644 L) | 16 fl oz (500 ml) |
If you want more specific information on the R/C Air Tractor 502b,
please contact us or Duane Habets.
For more details on Duane's Air Tractor, see the gallery.